The days are getting shorter, the air is getting crisper, and pumpkin spice everything is back. That can only mean one thing - it's officially fall, y'all! As we transition our wardrobes to warmer tones and break out the boots, it's the perfect time for us to give our hair a seasonal upgrade too.
That's why I'm crushing hard on all things burgundy hair this autumn. These rich, wine-inspired shades are the ultimate way to sip some sass and style for the cooler months ahead. From light coppery chestnut hues to deep, vampy plum-red colors, burgundy hair is anything but boring.
In this post, I'll walk you through everything you need to know about achieving, maintaining, and rocking burgundy locks this fall. You'll discover flattering shades for fair, medium, and dark complexions. I'll also share styling tips and celebrity inspiration to find your perfect wine-stained look.
So pour yourself a glass of merlot and get ready to indulge in 18 brilliant burgundy hair colors to give your mane a delicious dose of dimensional color! The season for spicy, warming shades is now. Let's toast to finding your perfect fall hair hue!
What is burgundy hair and how to achieve it - Burgundy hair is a rich, red-wine inspired hair color that adds warmth and dimension to any hair type. It ranges from light coppery browns to deep, plum-colored shades. To achieve it, you'll need to pre-lighten your hair to create a blank canvas. Then use a demi- or permanent hair color in a burgundy tone. Styling with products that enhance vibrancy will also help you get that bold, wine-stained look. 
Different shades of burgundy hair - There's a burgundy shade for everyone! Light copper burgundy with warm peach undertones is flattering on fair complexions. Medium auburn burgundies with red-violet notes pop against olive and medium neutral skin. Deep oxblood and plum burgundy shades make dark complexions glow. Ask your colorist to customize the tone and depth to find your perfect match.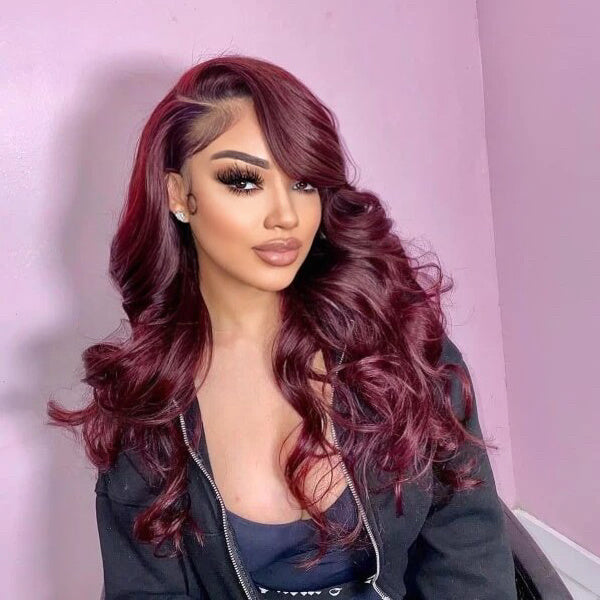 Best burgundy hair ideas for fair skin tones - With fair skin, aim for softer burgundy shades like light reddish copper, mahogany, or strawberry blonde hues. Avoid going too dark or ash-toned. The goal is to enhance without washing out your complexion. Add dimension with face-framing highlights.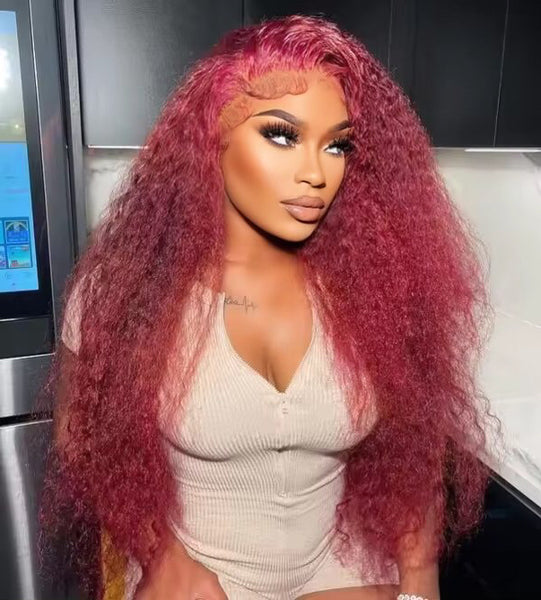 Best burgundy hair ideas for medium skin tones - Those with medium, warm skin can wear bolder burgundies like chestnut, auburn, and classic cherry red. Neutralize brassiness with violet-red tones. A multi-tonal burgundy ombre is gorgeous.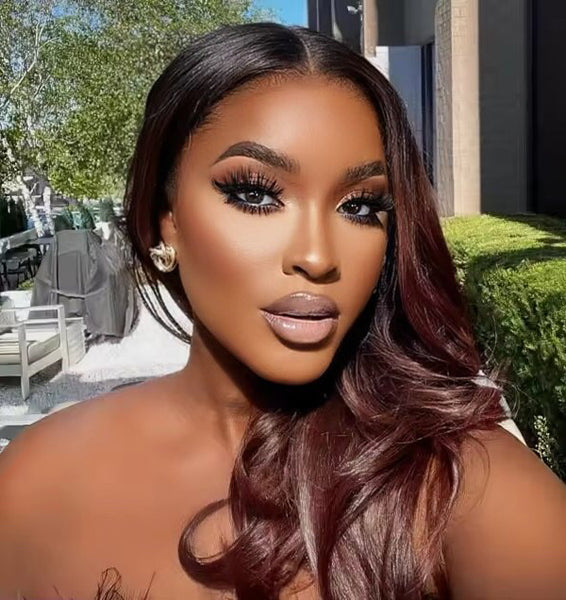 Best burgundy hair ideas for dark skin tones
Those with rich, darker complexions can pull off the deepest and boldest burgundy shades beautifully. When shopping for burgundy hair color inspiration, look for shades like:
- Espresso - A deep reddish brown that adds just a kiss of burgundy to dark tresses. It's subtle yet striking on very dark brunettes.  
- Merlot - This jewel-toned burgundy has red-violet undertones that make dark skin glow. It's an idealtone for African American hair colors.
- Oxblood - A luxurious burgundy shade that borders on crimson. It has blue undertones for an extra punch. Stunning on warm dark complexions.
- Plum - Deep eggplant and plum burgundy shades are edgy yet wearable. They're a good step between black and lighter reddish hues.
- Garnet - A vibrant burgundy with bright red undertones. It's perfect for adding dimension and brightness to very dark hair.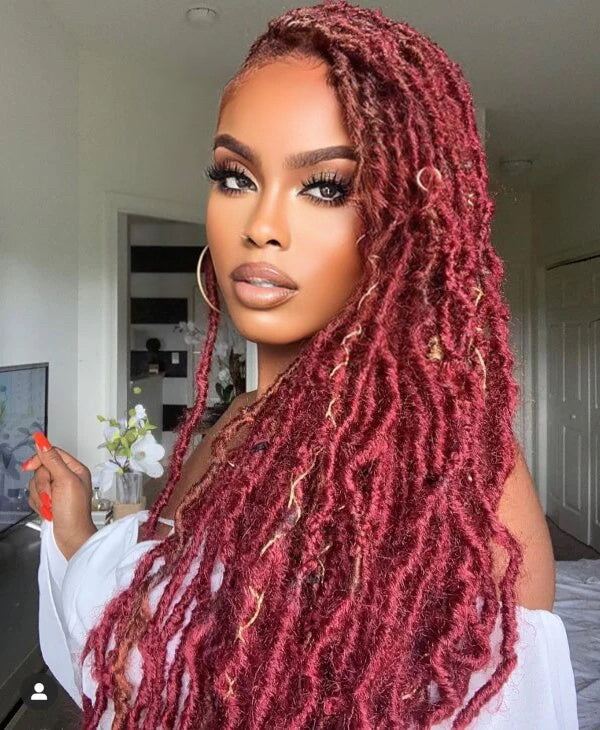 To maintain the vibrancy of deep burgundy shades on dark hair, use color-depositing shampoos and conditioners. Look for styling products specifically made for color-treated hair. Avoid washing daily and use cooler water to preserve the tone.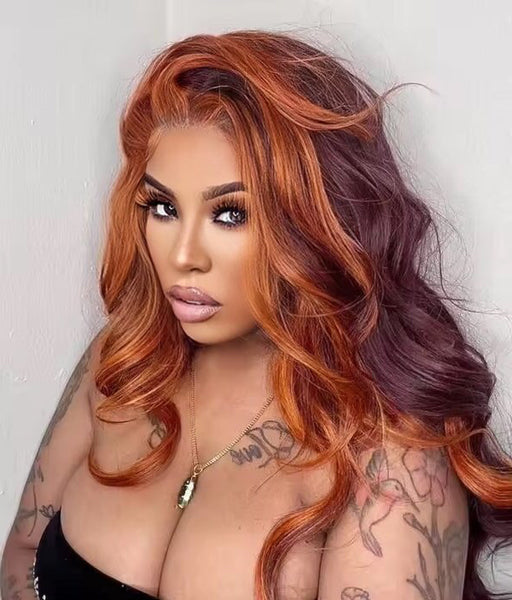 Deep burgundy ombre and balayage highlights are also eye-catching on darker complexions. Ask your colorist to focus the brighter tones on the mid-lengths and ends for a gorgeous glow.
The richness of a true burgundy shade stands out beautifully on dark skin. Don't be afraid to go bold - your complexion can handle the sultriest, edgiest red-violet hues. Let your hair color make a seriously chic statement!
Burgundy hair inspiration from celebrities - Check out celebs like Christina Hendricks, Emma Stone, and Megan Fox for amazing burgundy hair color inspo! Their designers personalized the tones to flatter their skin.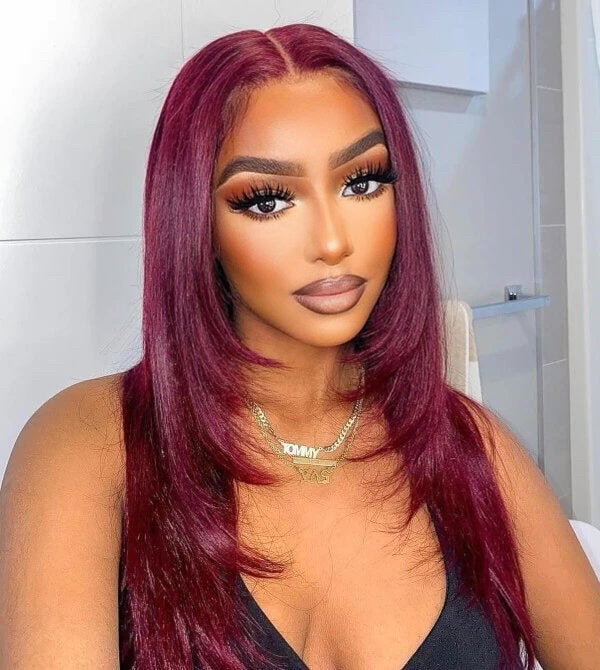 How to maintain your burgundy hair color - Burgundy hair requires maintenance to stay vibrant. Use sulfate-free shampoo and cool water washes. Apply weekly conditioning masks. Get a gloss or glaze touch-up every 4-6 weeks. Avoid chlorine and sun exposure.   
Transitioning to burgundy from other colors - Going gradually with highlights and lowlights makes burgundy less of shock. To go lighter first, do an ombre. If going darker, add red-toned gloss to prep. Ask your colorist to customize the change.
Styling tips for burgundy hair - Play up dimension with loose waves and curls. Show off highlights with pulled-back styles. Use a texture spray for bold texture. Amp up vibrancy with red-hued products.
Burgundy hair for fall - Warm, spicy burgundy shades perfectly complement fall fashion and seasonal beauty trends. It's a color that seamlessly transitions summer to the coolest months.
With its delicious dimensional shades and rich, wine-inspired hues, burgundy hair is the perfect way to give your locks a warm, spicy makeover for fall. Whether you go for a light copper, deep plum, or bold ombre, a burgundy shade will bring out your sass and style. Just remember to use color-safe products, reduce washing, and get regular gloss touch-ups to keep your color vibrant all season long.
So don't wait any longer to treat yourself to one of these 18 brilliant burgundy hair colors! Look through the inspiration images and examples I shared to find a reddish-brown or purple-red tone that flatters your complexion. Then set up a consultation with your stylist to toast goodbye to summer and welcome the cooler weather ahead. For fabulous, head-turning hair you can feel good about, it's officially wine o'clock, ladies. Cheers to your vibrant new mane!